Security System Services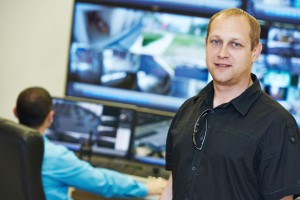 The safety and security of your home or business should be at the top of your priority list.
One of the best ways you can protect your home or business is through the installation of a high tech security system.
"HITS SECURITY SERVICES" provides residential and business security services with a single source of integrated, state of the art security solutions for:
* Alarm installations
* Video surveillance systems
* Intrusion detection systems
* Access systems and fire protection systems
Our security system is made to offer 24 hour tracking solutions to homeowners when they're away. The device may be remotely accessed via a Smartphone, PC or touch pad and provides you with the control of everything inside your house.
The video surveillance allows you to monitor the actions close to your house, when it's unoccupied or when there are unsupervised kids indoors. You can even manage the lights and thermostats remotely, according to your comfort needs.
The benefits of using "HITS SECURITY SERVICES" are:
* Instant awareness notifications
* Remote management and control
* Alerts for severe weather
* Location based triggered events
* Peek in, with quick snapshots
Providing the best solution for our client is our number one priority. By working with you in your environment, we will seamlessly design and set up integrated security systems to customize the perfect blend of security, technology, communications and value to meet your needs.
Fast support and fair prices is the thing that makes us a trustworthy brand throughout the nation. In the event that you are really concerned with your family's security, as well as your house, we are able to offer a custom made solution for your requirements and your budget.
If you are not sure about what you want, speak to our friendly staff and make an appointment. We'll be more than pleased to to be your most effective choice.
Contact us for more information at 0468 301 123
Contact Us
HITS SECURITY SERVICES
Oxley  QLD  4075
Call Us: 0468 301 123
http://HitsSecurity.com.au
Why Us
Hospitable
Customizable
Technology Driven
Assurance
Strength and Integrity
Agile and Adaptable
Contact Us
HITS SECURITY SERVICES
Oxley  QLD  4075
Call Us: 0468 301 123
http://HitsSecurity.com.au
Service Area
Your Local Area
The Experience You Want
The Service You Expect
The Quality You Deserve!
Call

0468 301 123

 for Free Estimate