Access Control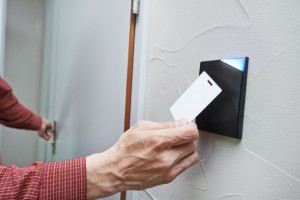 When it comes to ensuring safety, preparing for emergencies and protecting your people and assets, time is of the essence.
"Access control" should refuse access to unauthorized people and freedom of movement for authorized people.
"HITS SECURITY SERVICES" offers a wide range of access control solutions and helps you with the realization.
Our system goes beyond conventional access control by applying a company plan, letting you handle several clearances, permits and competences for your customers while ensuring your company's duty of care for the health and welfare of all who access your property.
Our System uses digital card viewers, RFIDs, fingerprint readers and keypads to track and control employees and ensures several essential safety and company features including:
Management of visitors
Staff access and after hours management
Tracking and Monitoring
Intruder alarm detection and notification
Lockdown, Emergency management and alerts
Compliance with government regulations.
We offer many degrees of protection from completely monitored access control for a critical facilities site, to cost effective wireless and data on card choices for securing dormitories and lockers.
Our system is built to manage and track entry factors including doorways, lift floors, parking entrances or garages doorways, which places you firmly in control of monitoring accessibility at each program managed entrance point.
Benefits of our system:
Observe movement
Secure an area or sector
Integrate with other security systems
Protect employees, assets and information
Control who is entering your premises and when
With our comprehensive range of access control technologies, we can ensure that the best solution is provided for your business.
Whether you are in need of a sophisticated access control method or an easy stand alone apparatus, we've got all the products to meet your requirements. We offer an entire line of access devices including RF handlers, keypads, card readers, electrical and magnetic locks as well as a complete line of free products to meet your own unique conditions.
Contact us for more information at 0468 301 123
Contact Us
HITS SECURITY SERVICES
Oxley  QLD  4075
Call Us: 0468 301 123
http://HitsSecurity.com.au
Why Us
Hospitable
Customizable
Technology Driven
Assurance
Strength and Integrity
Agile and Adaptable
Contact Us
HITS SECURITY SERVICES
Oxley  QLD  4075
Call Us: 0468 301 123
http://HitsSecurity.com.au
Service Area
Your Local Area
The Experience You Want
The Service You Expect
The Quality You Deserve!
Call

0468 301 123

 for Free Estimate